So, if you haven't heard, NUTS is a novella (26K / 118 pages) that's part of the Ace's Wild Series of books – it's a multi-authored series, and the books (novellas) will all release one week apart for the next several months.  The best part?  For the first 90 days, all proceeds (sales & KU page reads – and, in my case, paperback sales) will go to a LGBTQ charity of the author's choice.
Jagger's the son of a bookmaker and fixer. Now, he's the owner of an exclusive, underground club…and he's also been put in charge of the family business.

Preston's the son of a wealthy, powerful, blue-blood Boston family…or he was, until he was disowned for choosing his friendship with Jagger over his family. Ten years later, he's a Special Forces Operator—and he's still best friends with Jagger.

But things are about to change, for both men. Because after a long year of no contact, Preston's coming home to Jagger for the first time since they shared a surprising kiss.

One night, one poker game, and one hand finds Jagger lucky—and skilled enough—to win a chance to fix things with Preston. But what's at stake is far more than their friendship—it's everything…and both men are all in to fight for what's theirs.
For the first 90 days, all sales and page reads for this book will be donated to The Loft: LGBT Center.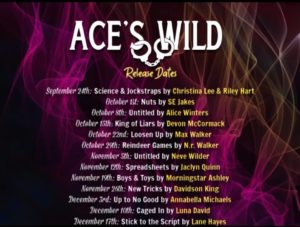 Ace's Wild is a multi-author series of books that take place in the same fictional town. Each story can be read in any order. The connecting element in the Ace's Wild series is an adult store owned by Ace and Wilder. The main characters from each book will make at least one visit to Ace's Wild, where they'll buy a toy to use in their story! The only characters who cross over to each book are Ace and Wilder. And with various heat and kink levels, there's sure to be something for everyone!
You can join the Ace's Wild Facebook group to get more information about the current and upcoming books in this series!
****
Also, I've put the Mirror Series into KU for the first time!  Rule of Thirds is an MM romantic suspense / serial killer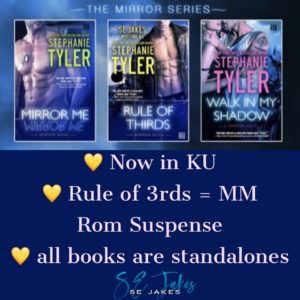 thriller, and Mirror Me and Walk in my Shadow are both MF Rom Suspenses (under my Stephanie Tyler name!).  They're all standalones, which means, if you only read MM, you'd be fine just to read Rule of Thirds.  These books released in 2016, but I realized a lot of my SE Jakes people missed RO3.
***
Last but not least, my website is getting a little bit of a freshening up — you can already see the new logo (that I LOVE!!!!) and they'll be some more changes happening in the coming weeks.  I'll also be updating my Stephanie Tyler site as well.  Thanks to the wonderful Frauke at CrocoDesgins!!!