Running Wild release day!!!
Running Wild (Havoc Book 1) is LIVE!!!!  Ebook links are below, but the print copies are also up for order too!
Riptide / Amazon Kindle / B&N Nook /ARe
RUNNING WILD (Havoc # 1)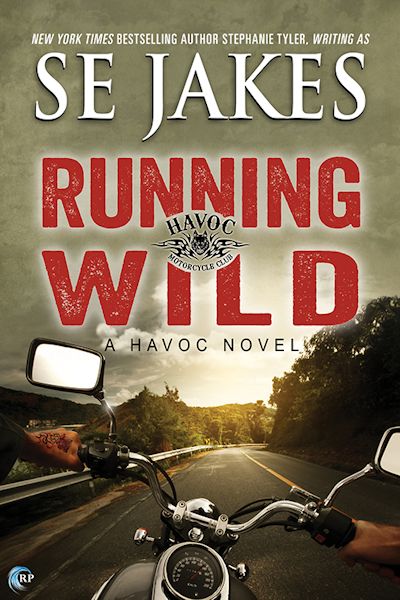 Embrace the danger.

Sean Rush is an adrenaline junkie. That's why he was in the Army, why he steals and races classic muscle cars . . . and why he can't stay away from bad boy Ryker, a Havoc Motorcycle Club lieutenant. Fortunately, Ryker can't seem to stay away from Sean—he's spent the last eight months breaking into Sean's apartment and stealing into his bed, leaving Sean physically satisfied but increasingly restless.

Sean has always avoided relationships. He likes to come and go without being controlled. And Ryker is possibly the most controlling man he's ever known. Still, he finds that he wants more from Ryker than their silent nighttime encounters.

Then one of Sean's thefts goes bad, and Ryker's protective instincts kick into overdrive. He takes Sean to the Havoc compound, determined to keep him safe. But Sean's past threatens the safety of Havoc—and everything Ryker holds dear. Worse, Ryker's hiding secrets of his own. Soon it's obvious that the adrenaline rush can't keep them together anymore. But maybe love can.
Today also starts the Running Wild tour!  I've put all the stops below 🙂
Join New York Times bestselling Author Stephanie Tyler, writing as SE Jakes for the Running Wild tour!
Stops for this tour:
June 30, 2014 – Up All Night, Read All Day- Spotlight Stop
June 30, 2014 – The Jeep Diva
June 30, 2014 – Smexy Books – Spotlight Stop
July 1, 2014 – Smoocher's Voice
July 1, 2014 – LeAnn's Book Reviews – Spotlight Stop
July 1, 2014 – Sinfully Sexy Book Reviews
July 2, 2014 – Delighted Reader
July 2, 2014 – Fish With Sticks – Spotlight Stops
July 3, 2014 – The Blogger Girls – Spotlight Stop
July 3, 2014 – Romancing Rakes for the Love of Romance – Spotlight Stops
July 4, 2014 – Under the Covers Book Blog – Spotlight Stop
July 4, 2014 – The Novel Approach
July 6, 2014 – Romance Junkies
July 6, 2014 – Slitsread – Spotlight Stop
July 7, 2014 – Boys in our Books
July 8, 2014 – Attention is Arbitrary
July 8, 2014 – KT Book Reviews – Spotlight Stop
July 9, 2014 – Prism Book Alliance
July 9, 2014 – MM Good Book Reviews – Spotlight Stop
July 9, 2014 – 3 Chicks After Dark – Spotlight Stop
July 10, 2014 – TTC Books and More – Spotlight Stop
July 10, 2014 – Creative Deeds – Spotlight Stop
July 10, 2014 – Dawn's Reading Nook – Spotlight Stop
July 11, 2014 – All I Want and More Books – Spotlight Stop
July 11, 2014 – Tracy's Place – Spotlight Stop
July 11, 2014 – That's What I'm Talking About – Spotlight Stop
July 14, 2014 – Fresh Fiction
July 14, 2014 – Scattered Thoughts and Rogue Words – Spotlight Stop
July 14, 2014 – Love Bytes Reviews – Spotlight Stop
July 15, 2014 – Cup O' Porn – Spotlight Stop
July 15, 2014 – Guilty Indulgence – Spotlight Stop
July 16, 2014 – Joyfully Jay
July 16, 2014 – Book Reviews & More by Kathy – Spotlight Stop
July 17, 2014 – Crystal's Many Reviews – Spotlight Stop
July 17, 2014 – Words of Wisdom from the Scarf Princess – Spotlight Stop
July 18, 2014 – Busy Mom's Book Reviews – Spotlight Stop
July 18, 2014 – La Crimson Femme -Spotlight Stop