KEEPING CADE:  Crave Series Book 1 comes out at the end of May on Kindle Unlimited!  Cover reveal soon (if you're in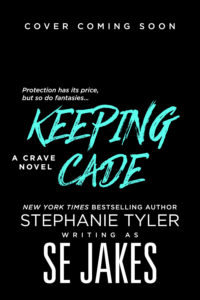 my SE's Dirty Deeds Facebook Group, you got to see it first!)
Protection has its price, but so do fantasies…
Fantasy Week happens twice a year at Crave, a bar and dance club that also caters to a BDSM crowd, and it's always a big hit—a way to live out your wildest fantasy in a safe, sane and consensual manner.
But when Cade comes in with his Fantasy Week invitation, he's not happy about it. He's stoic as hell and his preferences don't seem to match his fantasy at all…and yet, despite that, he enjoys himself with Tegan and Vic. At least at first.
When it becomes glaringly apparent that the fantasy isn't something Cade's comfortable with, it's confusing for the men he'd been paired with, and Tegan and Vic put a stop to the scene immediately.
Cade gets angry when the men refuse to follow through and he leaves in search of someone who will. That's when Tegan and Vic discover that someone has hacked into the security cameras in order to watch Cade's fantasy scene.
What Cade doesn't know is that the men he'd been paired with for his fantasy—Tegan and Vic—are not only co-owners of Crave, but they're also owners of a mercenary group, Gray Ops, that's run out of Crave. They've also been circling each other for years, attracted as hell to each other. But nothing sparks until their session with Cade.
What happened in that room is something none of the men can forget…but it's got nothing to do with a fantasy and everything to do with blackmail. Can Tegan and Vic help Cade keep his secrets, while keeping all of them safe at the same time? Because it turns out, the secrets threatening to spill out aren't only Cade's…
*This series is set in the MEN OF HONOR world, in the bar called Crave from Bound By Honor
Share this: